Clarkson's Latest DVD Released In UK
Posted

November 18th, 2010 at 05:47

by Viper007Bond in Jeremy Clarkson
Jeremy Clarkson's latest DVD, "The Italian Job", was released Monday in the UK on both DVD and Blu-ray. Here's the trailer again that we posted last month:
Clarkson's New DVD "Italian Job" Out November 15th
Posted

October 10th, 2010 at 18:17

by Viper007Bond in Jeremy Clarkson
Here's the trailer:
Happy 50th Birthday, Jeremy!
Posted

April 11th, 2010 at 10:25

by Viper007Bond in Jeremy Clarkson
That's right — Jeremy turned 50 today. Happy birthday, Jeremy!
Jeremy Clarkson's Latest DVD On Sale In The UK
Posted

November 3rd, 2009 at 06:00

by Viper007Bond in Jeremy Clarkson
Jeremy Clarkson's latest DVD Duel came out today and is now on sale in the UK. I assume it will be on sale here in the US at a later date.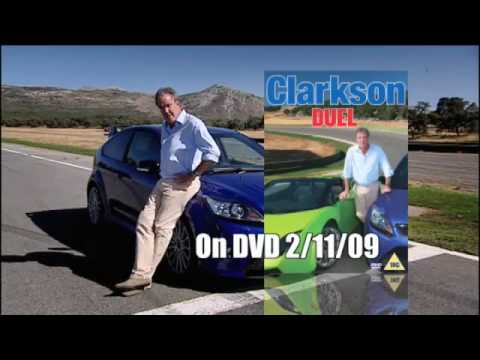 Top Gear Australia Changing Channels And Hosts?
Posted

October 20th, 2009 at 21:00

by Viper007Bond in Jeremy Clarkson, Top Gear Australia
It's been a busy couple of days — first rumors of Fifth Gear getting canceled and now multiple reports that Australia's Channel Nine has gained the rights from the BBC to do the show instead of SBS.
Rumor is that Shane Warne is being talked to to host the show as well as Jeremy Clarkson, although I have no idea how that would work.
We'll let you know as the news comes in and thanks to everyone who sent in tips.
A Trip Down Memory Lane: Old Top Gear
Posted

August 6th, 2009 at 19:51

by Viper007Bond in Jeremy Clarkson, Top Gear
Ever wonder what Top Gear was like back in the day? No, I'm not talking about it's reboot in 2002 — I'm talking about the old format. It started out in 1977 as a relatively boring automotive show:
However things really started to pick up in 1988 when Clarkson and his hair joined the show:
Sadly not many rips of old Top Gear exist, although we do have some on our forums. Don't go in expecting the current format of Top Gear though as you'll be disappointed.
Clarkson's Cheap Car Challenge Mitsubishi Starion On eBay
Posted

August 3rd, 2009 at 21:09

by Viper007Bond in Jeremy Clarkson, Top Gear
Clarkson's Mitsubishi Starion from the cheap car challenge in episode 06×02 is currently up for sale on eBay if you're interested.
Props to Dean Evans for the link.
Jeremy Clarkson Beatbox
Posted

August 1st, 2009 at 23:46

by Viper007Bond in Jeremy Clarkson
For the life of me, I cannot stop listening to this hilariously awesome mix of Clarkson beatboxing: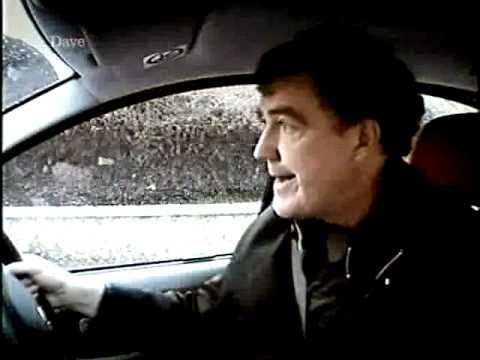 Thanks to shellygrrl who posted it on our forums earlier this week (I was on vacation, otherwise I would have posted it earlier).
Helicopter Carrying Clarkson And Hammond Hits Seagull
Posted

February 16th, 2009 at 01:13

by Viper007Bond in Jeremy Clarkson, Richard Hammond
I'll just get right to the point — everyone's okay and it wasn't a serious incident. Nothing to worry about. However it's still worth a little news post here.
On Friday, Jeremy and Richard were in a helicopter flying over Auckland Harbour in New Zealand when a seagull hit the helicopter's rotor blade. They made an emergency landing nearby and luckily everyone is okay.
[Source: Daily Mail]
Clarkson Says Top Gear America "Canned"
Posted

February 11th, 2009 at 11:20

by Viper007Bond in Jeremy Clarkson, Top Gear Live, Top Gear US
Yes this news is from last week, but I haven't been reading my e-mail too well lately so it slipped between the cracks. Whoops.
During a press conference for Top Gear Live in Australia, Jeremy was asked about the American version of Top Gear and if he thought it was going to be shown in Australia at all. He replied that the show had been "canned" and that us Americans "just don't get it". Now he may have just been referring to NBC passing on the show, but it may also be really dead. I'm not sure as Clarkson isn't usually the most reliable when it comes to these kinds of things.
Anyway, you can see for yourself at 6:30 in: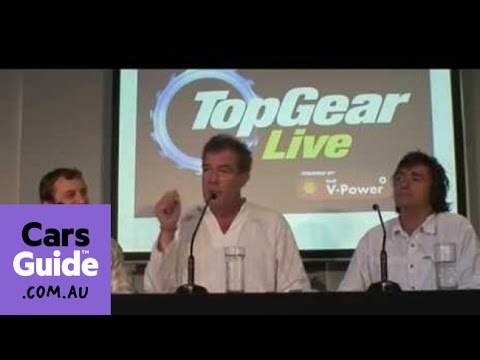 [Source: carsguide.com.au, thanks to everyone who sent in tips]